Stratford Park is a friendly, family-oriented church that takes seriously our call to be God's light in a dark world. We believe in the power of demonstrating God's love through the care that we show for one another. We also believe in taking the gospel out into the world— making disciples through the proclamation of his Word.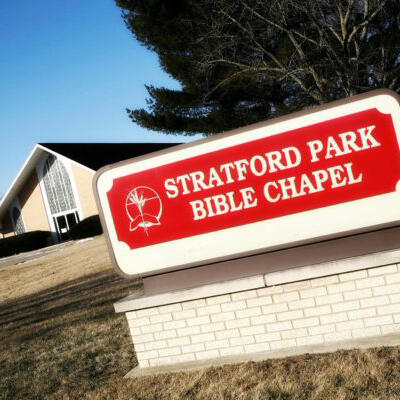 Stratford Park Bible Chapel is an independent evangelical church with about 250 members. We try to emphasize several important aspects of church fellowship. These are: a weekly remembrance service in which we proclaim the finished work of Christ on the cross, strong expository Bible teaching, a warm fellowship where each member is encouraged to use their spiritual gifts, leadership through a plurality of elders, active evangelism and grace. If any, or all of these priorities strike a chord with you we would gladly welcome your visit.
About
Our Beliefs
Stratford Park Bible Chapel is a vibrant and dynamic church with a wide representation of ages and backgrounds and is characterized by a warm and friendly congregation. As an independent church we are fully autonomous, conservative in our orientation and strongly evangelical. A very Bible-centered fellowship, we have a long tradition of strong biblical exposition.Our foundation and strength is in the Word of God- we look to the Word as our sole guide in all matters of faith and practice.  That may be a pious sounding statement, but at Stratford Park it's also a working reality. We strive in all things to follow clear biblical principles and to avoid traditionalism and legalism. Even our self understanding as a church is derived from the Word.The church is not viewed as an organization or a man-made entity. It can not be associated with any particular denomination; rather it is a living organism. The true church is comprised of all those who have a life-giving relationship with God through the death and sacrifice of our Lord Jesus Christ. A local church is merely a gathering of true believers who come together as a visible expression of the body of Christ. Our fellowship is shaped by this understanding.At Stratford Park we strive not to please men, but to graciously represent Christ in our community. God has called us to be his ambassadors; he has charged us with the task of representing Him in this world. It is an awesome responsibility and privilege; therefore our goal is to obey our Lord and to do what he's asked. That means sharing the gospel, evangelizing, making disciples, encouraging one another, being accountable, being trained in righteousness, studying the Word, worship, fellowship, praise and prayer. We gather for all these purposes with the understanding that this ministry is the responsibility of the body as a whole. Each member is gifted, valuable and has a role to play.If you are looking for a serious and dynamic church, to fellowship where the Word is held high and every member is encouraged to grow in grace, then please come and visit with us.
Statement of Faith
Being a part of the fellowship of Christians here is not contingent on commitment to every detail of this Statement of Faith, but adherence to the principal doctrines of the Christian faith will be assumed. Those who engage in any teaching or counseling ministry on behalf of the church are expected to teach, positively and wholeheartedly, the beliefs to which this church is committed as expressed below. These beliefs are based on the Bible as indicated by the references accompanying each section.
The Bible is verbally inspired of God, inerrant in the original documents, and of final authority in all matters of faith and practice, and the all sufficient guide for the Christian life. (Matthew 5:18; John 10:35; 2 Timothy 3:15-17; 2 Peter 1:20-21)

There is one God, who is the creator of all things, He is a spirit who is infinitely perfect, holy and eternally existing in three persons: Father, Son, and Holy Spirit. (Deuteronomy 6:4; Psalm 145:8; Malachi 3:6; John 4:24; 2 Corinthians 13:14; 1 Timothy 1:17; Revelation 4:8,11)

The Lord Jesus Christ is truly God and truly man, conceived of the Holy Spirit and born of the virgin Mary in his incarnation. He lived a sinless life and died as a perfect sacrifice for our sins, The sinner finds in Christ a substitute, and a representative who forever pleads his blood for our justification. He rose bodily from the dead, and ascended to his Father's right hand, where he now intercedes as our High Priest. (Matthew 1:18-25; John 1:1,14; Romans 1:2-4; 8:34; 1 Corinthians 15:3,4; 1 Peter 2:22; 3:18; 1 John 3:5; 5:20)

Each member of the human race is fallen, sinful and lost. Regeneration by the Holy Spirit is absolutely essential for the salvation of man. Redemption is wholly by the blood of Christ, and salvation is by grace, through faith in our Lord Jesus Christ. Every true child of God possesses eternal life and is saved for all eternity. (John 3:3-5; Romans 3:10,23; 5:12,19; Ephesians 2:8,9; Titus 3:4-7)

Each believer is indwelt by the Holy Spirit, who seals him until the day of redemption. He guides, instructs, and empowers the believer for godly living, and spiritual service. (John 14:16-17, 26; 16:7-14; Romans 8:9; 1 Corinthians 3:16; 12:11; Galatians 5:22,23)

The Lord Jesus will come personally in the air for all believers at the close of this age. His coming is both pre-millenial and imminent. (Matthew 24:4-44; John 14:2-3; Romans 11:25 1 Thessalonians 4:13-17; Revelation 19:11-16)

The saved and the unsaved will be raised bodily. The saved will be raised to everlasting blessedness and the lost will be raised to everlasting conscious punishment. (Luke 16:19-31; 23:39-43; John 3:36; 5:24-29; 1 Corinthians 15:12-58; 2 Thessalonians 1:6-10)

The Church universal is not an organization, but a living organism, known as the body of Christ. The local church is composed of believers in any locality, who gather in Christ's name as a corporate testimony to the Lordship of Christ and to the oneness of the body of Christ. Since the body is one, the Lord's people should avoid being sectarian in spirit and practice. (Acts 2:42-47; 1 Corinthians 1:2; 12:12-27; Ephesians 1:22; 4:13; Colossians 1:18, 1 Thessalonians 5:11; Hebrews 10:24-25)
Services
Communion Service – 9:00
This weekly communion service is central to our worship. We come on the first day of the week to break bread in remembrance of Christ. It is a humbling experience but one that helps us to focus on what's really essential: Jesus died for me and I am called to live in obedience to him and in unity with my brothers and sisters in Christ.
Christian Education for all ages – 10:00
(during the school year)
Sunday School is an important ministry for most churches and SPBC is no exception. In fact, we like Sunday School so much we offer it for everyone, adults included. Children receive a strong Bible based curriculum and adults always have a theology or Bible book option to consider. Our program is offered during the school year (between labor day and memorial day).
Community Bible Hour – 11:00
(10:30 during the summer)
This conventional preaching and worship service is given over to the proclamation of God's Word and the encouragement of praise. We favor Biblical exposition, which means preaching through entire books of the Bible and our pulpit is open; we allow a variety of men to share from God's word.Live services and recordings are available via our Church Center site or YouTube.